Alice Day: 1862 Lewis Carroll first tells Alice Liddell the story of Alice in Wonderland
1865 Alice in Wonderland published
Have an mad hatter's tea party!
US Independence Day:
The USA is possibly the world's most ethnically diverse and multicultural nation. Its human history began when Paleoindians moved in from Asia about 15,000 years ago.
In fourteen hundred and ninety-two, Columbus sailed the ocean blue while working for Spain and discovered America. He thought he'd gone all the way around the world and found the other side of Asia; a few years later Amerigo Vespucci, after whom America is named, realised it was a whole new country.
http://www.biography.com/people/amerigo-vespucci-9517978
Spain and France began to colonise the US. The Native Americans were nearly wiped out by the new diseases they brought.
Britain sent over its Puritans and convicts; the Dutch followed too but later gave their bits to England and their New Netherland was renamed New York.
13 British colonies – Virginia, Massachusetts Bay, Delaware, Pennsylvania, New Jersey, Georgia, Connecticut, Maryland, South Carolina, New Hampshire, New York, North Carolina and Rhode Island – were the beginnings of the United States.
In the French and Indian War (1754-63), Britain took Canada from the French, although parts have obviously remained stubbornly French. The British colonies now made up 2.6 million people and by now one in five Americans were black slaves.
Britain taxed the American colonials but didn't let them vote for the British parliament, so eventually America revolted and in 1776 the states declared themselves independent. France and Spain helped them to defeat the Brits in the American Revolution.
The US Constitution was adopted in 1787; their first president was George Washington.
The War of 1812 against the British Empire also conveniently stopped an independent Native American nation starting up in the midwest, so the states could expand across the north in the 19th century.
The northern states had abolished slavery by 1804, but the southern states carried on with it. Just before Abraham Lincoln came to power in 1860, seven of the southern states broke away and formed the Confederate States of America. Four more states joined them and the America Civil War began in 1861.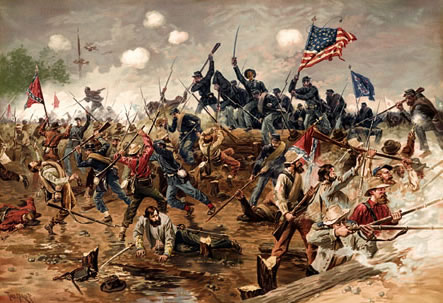 Lincoln's Emancipation Proclamation said that if the rebelling states didn't calm down, their slaves would be freed. He made the abolition of slavery the goal of the war, which meant the Europeans who had been planning on helping the Confederacy now couldn't in case it looked like they were in favour of slavery.
The Union (North America) won the Civil War in 1865 and four million African Americans were made citizens with voting rights and everything.
As the United States expanded, they took French Louisiana and Spanish Florida, the Republic of Texas, a large area of Mexico, and bought Alaska from Russia in 1867.
In the 1830s 'Trail of Tears', Americans moved all the Native Americans they could find to Oklahoma so that there was more land for white people. Oh, and they killed off all the buffalo too.
They started to believe in something called Manifest Destiny, that it was America's destiny to expand as far as it could, bringing democracy and civilisation. You can see America still thinks that way now.
In 1893 the US overthrew the indigenous Hawaiian royal family and took their island too; in the same year the US won in a war against Spain and took Puerto Rico, Guam and the Philippines.
In WWI the US hung around on the outside for three years and then helped with the victory bit.
In 1920 US women won the vote, and in 1929 the Wall Street Crash ruined the economy for the whole world. After that Roosevelt came to power and implemented a social security system to help impoverished Americans.
In WWII, again, the US waited around for two years until Japan surprised everyone with an attack on Pearl Harbour.
America had been conquering Pacific islands for the last fifty or so years and had recently started to annoy Japan by trying to put barriers on its trade. Japan needed to defeat America if it wanted to have a Pacific empire or just not feel threatened by the US anymore. As a consequence of Pearl Harbour, thousands of Japanese Americans were put in prison just in case.
America was the only country to emerge from WWII richer than before. While the first useful, peaceful, nuclear power station wouldn't be invented until 1954 (in Russia), America was working on the first nuclear bomb. Well done them (although to be honest, Britain and Canada helped. Nazi Germany was trying too but luckily all the best nuclear physicists were Jewish and had fled to America. Just imagine if they'd got there first though.)
The US is still the only country to have used a nuclear weapon in a war.
The Allies had decided to invade Japan because, well, we were at war, casualties were at an all-time high, and Japan had just bombed Pearl Harbour … but then they realised they'd probably incur about 4 million casualties doing so. The US checked with the UK that they could use their new atomic bombs… and Churchill said yeah, sure. God I hate us.
The first bomb, on Hiroshima, honestly meant to land on a tactically important bridge, but landed on a hospital instead, so that that 90% of all doctors and nurses in the area were killed or injured. The second, on Nagasaki, was even larger.
The Japan surrendered shortly afterwards. They would have surrendered earlier if America had agreed not to change the emperor or government, to allow Japan to demobilise and punish war criminals of its own accord, and not to invade Japan or its territories. But why negotiate when you have new explosive toys to play with?
Some 240,000 people died, either immediately or later from burns, radiation and all the cancers that brings. In the year 2000 leukemias and cancer deaths were still occurring as a fault of the bombs.
When UNESCO declared the Hiroshima Peace Memorial a world heritage site in 1996, when you'd think we'd all had enough time to feel ashamed of what we'd done and happy to encourage peace efforts, America and China whinged because Japan hadn't lost that many people.
Anyway, on to the joys of the Cold War. America and Russia vied to be the bestest superpower but never actually threw the first atomic bomb, although everyone else was waiting for them to do it and destroy the world five times over.
When Russia launched the first man into space, America worked on getting the first man on the moon. And so on and so forth until Soviet Russia collapsed.
Meanwhile, at home, the Klu Klux Klan were being horribly violent to black people and Rosa Parks and Martin Luther King were showing everyone how to express your emotions properly.
Kennedy was assassinated; Nixon started the unsuccessful Vietnam War (which wasn't supposed to be a war; the Americans were just helping. Honest.)
Nixon became the first president to resign after Watergate, when he tried to cover up the fact that his party members had broken into and wiretapped the Democratic National Committee.
America emerged from World War II as the sole superpower with the largest economy. Today 41% of all military spending in the world is by them – if they slowed that down a bit they'd be even richer.
Since 11 September 2001, after al-Qaeda terrorists attacked the World Trade Centre and the Pentagon, the 'War on Terror' has seen America (and Britain, of course) invade Afghanistan to remove the Taliban government (which led to another guerrilla war) and then Iraq to remove Saddam Hussein. The US officially ended the Iraq war in 2011, after Osama bin Laden was killed in Pakistan.
Activities: As teddy bears (named after 'Teddy' Roosevelt) and a whole lotta food were invented in the US, today is perfect for a teddy bears' picnic (and I suppose any other toys who want to come too).
Get your jeans on, switch on the jukebox and try granola, bubble gum, Coca-cola, candy floss, ice cream sodas, jelly beans, and making popcorn. Play cowboys and Indians.
For dinner with daddy, it has to be beefburgers or hotdogs for dinner, with sweet potato fries; then for pudding making smores on a campfire or pancakes with patriotically coloured strawberries, blueberries and white chocolate/meringue/cream.
Other events today:
1997 NASA's Pathfinder probe lands on Mars
Philippines Independence Day – see 30th December
Rwanda Liberation Day (end of Rwandan genocide, 1994) – see 1st July